Tiger Woods set himself in prime position to challenge for a fifth Green Jacket at the Masters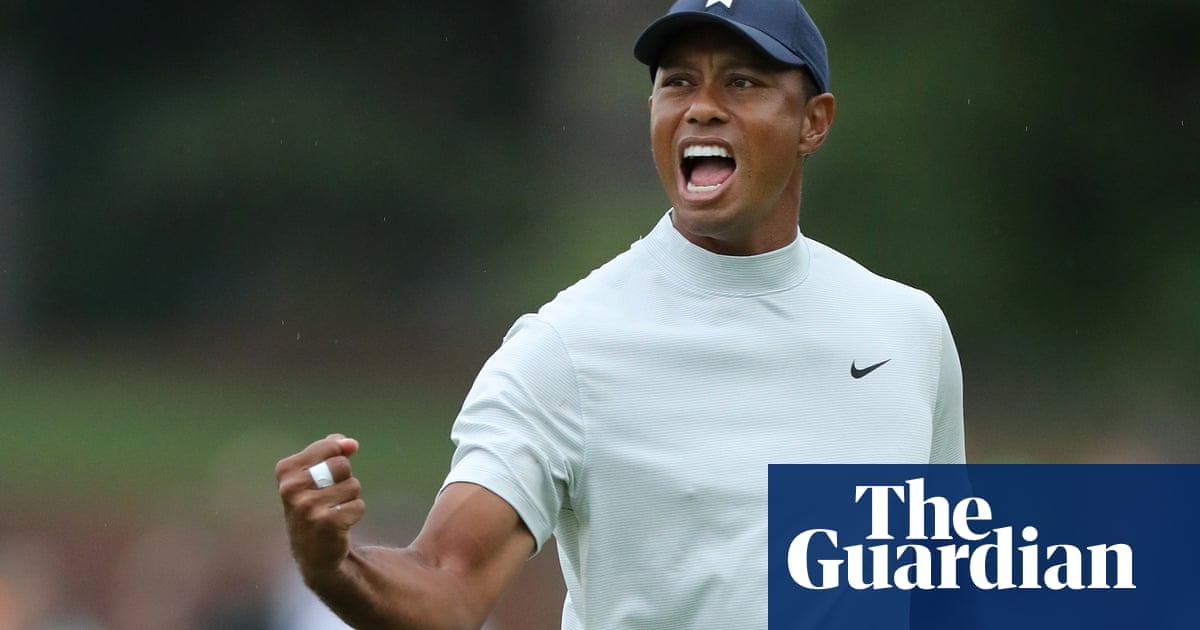 From within inches of disaster to touching distance of the Masters lead. Even taking into account the extraordinary circumstances which attach themselves to Tiger Woods as routine, Friday afternoon at Augusta National witnessed astounding scenes.
Given this venue's propensity for strictness, the punishment that will befall the security guard who caught Woods's right ankle does probably not bear thinking about. On a wet surface and when seeking to contain crowds in rough by the 14 th hole, the policeman slipped to the extent where he flew immediately into the 14 -times major champion. Woods limped, a watching world held its breath but within yards there was a smile. The 43 -year-old was to convert a 25 ft birdie putt minutes later, emphasising there had been no lasting damage.
As Woods holed out again from long scope at the 15 th Augusta's belief that a fifth Green Jacket could adorn the returning hero was at an all-time high. Woods's 68 ensured he will begin day three at six under par, one adrift of Francesco Molinari, Jason Day, Brooks Koepka, Adam Scott and Louis Oosthuizen. But for a series of missed opportunities on the greens, Woods would be firmly in command.
White boiler suit to Green Jacket would be quite a fashion statement. For Molinari it is also a realistic goal. Thirteen years have passed since he donned Augusta National's famous caddie gear to carry the container of his brother, Edoardo, in the Masters. The pair lasted 36 holes, with the reigning US amateur champion missing the cut comprehensively. Major Fridays have an altogether different feeling for Francesco now.
The Italian has fallen only one shot in 36 holes. And still Molinari's credentials are commonly underplayed. A Masters podcast presenter on Friday morning claimed the 36 -year-old had to be a " dark horse" to persist here. It took an incandescent caller from New York to apply sanity; how a reigning Open champ, Ryder Cup hero and winner of a PGA Tour event last month would be in any way under the radar eludes all( non American) logic.
Read more: www.theguardian.com