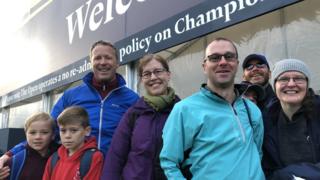 The thousands queued outside Royal Portrush from early morning presented the international appeal of The Open.
Americans, South Africans and Australians joined local golf fans waiting patiently to get into.
It was a moment of sporting history that they did not want to miss. It was cold, there was the threat of rain, but they did not care.
Nothing was going to stop them assure Darren Clarke hit that historic first shot.
It's estimated that at least 5,000 spectators were on the course before the first shot was hitting at 06:35 BST by Darren Clarke.
Among them was Brian Miller from Moira, with his two sons Ewan, 11, and Scott, nine.
Open diary day 3: Lefty and the prosthetic leg Open diary day 2: Tiger's glove and Rahm raid on Portrush Open diary day 1: Game of cones and tears before tee day Image caption Dungannon's Darren Clarke in action at the seventh pit in the opening round Image caption Scott Teising and Robert Knight sporting bold prints at the Open Image caption Rory McIlroy's fans, friends and family are hoping the Holywood star will glisten this week Image caption Conor and Fiona O'Kane are marshalling one of the grandstands Image caption Graeme McDowell braved the practice ground on Wednesday morning Image caption Crowds brave the climate during a practice round on Wednesday Media captionThe Open 2019: 'It's the local accent' – Tiger Woods battles to understand BBC reporter