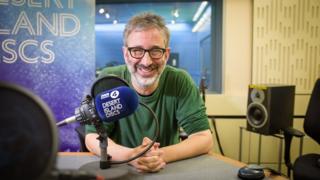 Comic and writer David Baddiel has said he talks about "sad and difficult" topics including his father's dementia, as a route of "processing" life.
He told BBC Radio 4's Desert Island Discs: "As you get older your life gets darker. You're faced with mortality."
Speaking about his "truth urge", he said: "Let's find the funny in those things. I don't think it's a denial, it's a bulwark."
Baddiel went on to speak about his father suffering from Pick's disease.
"It's a form of dementia, and is a ridiculous and cartoonish version of what he was like, " he said.
"It involves people being sweary and obscene and impatient and apathetic – and my dad was always like that."
David Baddiel on impact of dad's dementia Image caption Baddiel with his partner Morwenna Banks and children Dolly and Ezra