With odd positional shiftings, a lumpen midfield and perhaps the least Wenger-like team in two decades, the Arsne Wenger endgame has taken a surprising turn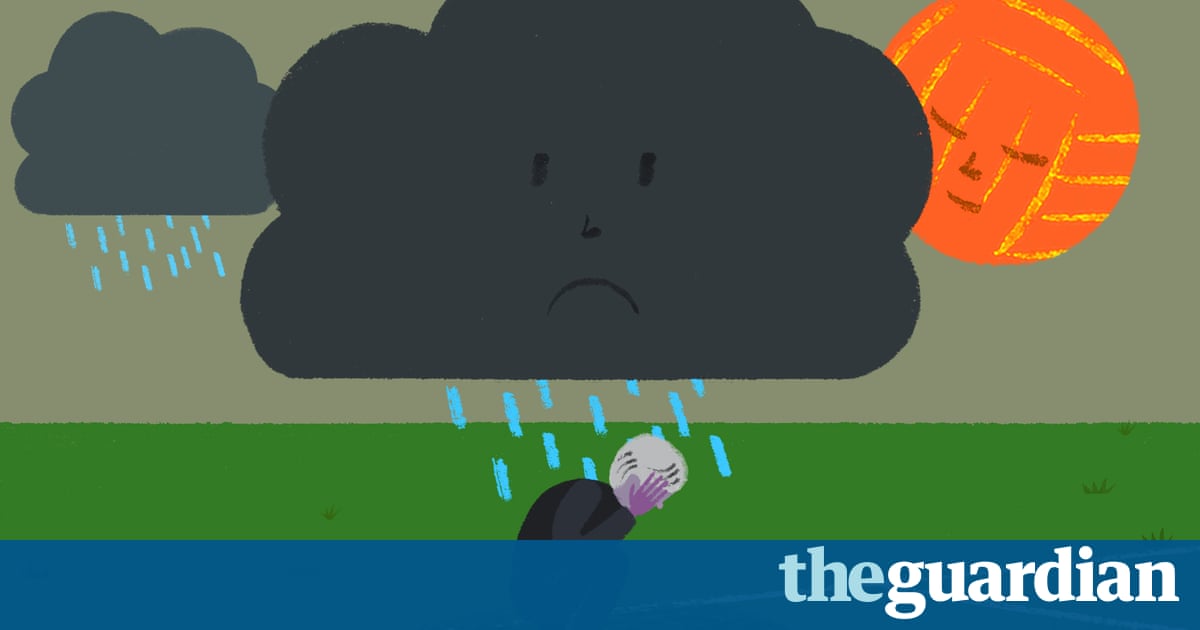 Among the many oddities of Arsne Wengers long goodbye at Arsenal the anger, the corporate vacuum, the sense of some succumbing sun-king exploring the outer edges of his own vanity one of the more interesting details is the weird, gimmicky switch to a back three in the past matches.
It is an unsettling move at this stage, a kind of ageing-swinger version of tactical invention. At one point in his classic Rabbit fictions, John Updike sends his paunchy, middle-aged anti-hero Harry Angstrom off on a slightly sad wife-swapping escapade during a golfing vacation in the Caribbean. Alone in the bamboo chalet, Harry and nice prim Thelma fumble through their belated moment of 1960 s swing with an awkward married tenderness. Eventually, a little desperate, in search of something special and arousing to do, they end up urinating on one another in the bath.
This is pretty much what Arsenals back three seem like: confused, fumbling, spreading across the chest like a hot, sweet flush of ammoniac regret. Wenger kept the back three in place against Tottenham last Sunday. Faced with an entire team grooved and drilled to play this way, it was uncovered as what it is, a suit of borrowed clothes, the act of a human seeming, slightly urgently, for something to do.
This is a surprising turn in the Wenger endgame. Personally, Id been expecting him to become more , not less Arsne-like with time, more obsessed with that old vision of fluent, soft-shoed Wenger-ball. Instead we have this: odd positional shiftings, a lumpen midfield and perhaps the least Wenger-like team in two decades.
Of course, by any reasonable standards Wenger should have already run, or at the least be on the verge of announcing his deviation. This is not a punitive decision. Wenger doesnt is in favour of jeered off or have his outstanding record belittled. But all things have an objective date, even good ones.
Instead the signs are that he will stay on. And so we have the current dog days, and a manager who seems a little less recognisable with every occur week. Perhaps this is where some of the genuine dislike, the gleeful piling in of the past days comes from. Even Wenger told Norwegian Tv this week that he hates himself when Arsenal lose. And watching him writhe on the touchline at White Hart Lane, cold and terribly thin, out there in his skinny legged trousers, icicles dripping from his nose, there was above all an air of sadness.
Often the most gripping thing about watching managers fail is the way certain traits are pulled out and exaggerated to defining impact. When Pep Guardiola makes a sticky patch he seems to become an ever-more extreme Guardiola, a great whirring brain producing teams so fluent and frictionless they scarcely seem to touch the turf. Jos Mourinho fails by running Mourinho-supernova, drowning in his own bile, a cartoon of Jos-ness but still undeniably himself.
By contrast one thing this current, prosaic Arsenal team lack is a bit of basic Wenger-ness. Until most recently most people seemed to agree the great flaw in Arsenals system was that they had too much craft in midfield, an excess of slick occur and flashy movement. Buy a tough, strong central player, they said. Change your formation, they said. So he did, but like a human out of his comfort zone, lost in this new world, shuffling anxiously across the avocado bathroom suite, quilted gown trailing on the tiles.
At the end of which this latest Wenger team has a midfield that seems bereft of craft and life. Granit Xhaka, Francis Coquelin, Mohamed Elneny and Aaron Ramsey have one league goal between them in a combined 84 appearances. Arsenal are routinely out-passed and out-moved in their traditional region of strength. Wenger, who was once deemed the most maddening human in football for his refusal to compromise his principles, appears to be making it up on the hoof.
Even the switch to a hot new 4-23-1 a while back always felt a little too late, last seasons tactical skinny jeans. In retrospect it already looks like part of the good old days, the age of the lightweight, Velcro-touch skill-goblins, with something thin and extreme and one-note but still a coherent style to follow the powerful, technological team of the early years.
Something seems to have been lost around about the time "the mens" who introduced internationalism decided the right thing was to have a British spine. Exit the creaky, flighty, high class midweek Carling Cup types the Carlos Vela Supremacy who for all their annoyances always seemed to have a brilliant midweek hat-trick against Reading in their locker. Enter a sneak, well-behaved mediocrity.
In fairness to Wenger he has been massing Santi Cazorla, Arsenals best player and a gorgeously poised central conductor who made this whole team looking so much more fluent and capable. But the lack of a replacing tells its own story. The classically Wenger-ish players sign for Manchester City these days. Old, puritanical Arsne would have bought Ilkay Gundogan, Gabriel Jesus, Nolito and Leroy San – and what a brilliant assault and midfield they would have attained before keep moving elsewhere for a large profit.What to do from here? The notion this team might have a final farewell title in them was still being floated as recently as the start of this season. The obvious decay in the squad, the loss of edge, of extreme qualities, makes this looking horribly far-fetched. But there is still time for a last gearing up.
If Wenger genuinely does insist on taking his final turning, he must surely do so as himself, with a group of players and a plan that at the least looks and plays like a Wenger team.
Stay strong, Arsne. Draw yourself up to your full height. Field merely the tiniest, most skilful woodland elves. Stand bolted to the touchline, grey quilted coat quietly mouldering away, the thin white duke pared back defiantly to his basic portions. Give us all a final whiff of Wengerball. And dont, whatever you do, get in the bath with Thelma. Not now , not after all this time.
Read more: www.theguardian.com